6 Unique Ways to Spend Valentine's Day
2014 Feb 04 | Written by:
Sharee Narciso
| Tags:
Breakfast
,
Chocolate
,
Cocktails
,
Desserts
,
Dinner
,
Drinks
,
Valentine's Day
Every person is unique in different aspects of life. This includes the way he or she celebrates special occasions and memorable days. With Valentine's Day dawning upon us, it is easy to get frustrated and run out of new things to do. To help bring out the inner [hopeless] romantics in all of us, here are some great ideas – from managing unruly kids on this special day to picking out the most amorous drinks to spending time together in the kitchen – to try out for size:
#1: Wake Up to the Smell of Love
Is there a better way to start off this lovely day than by spending literally every waking minute of it with luscious (but easy to make) food with your loved ones? This is great for moms and dads who want to involve their kids in their grand celebration of Hearts' Day. Babycenter sure seems like an unusual source for these life-saving Valentine's Day breakfast tips! Add a touch of love to your cup of coffee on this heartwarming occasion – beginning with these homey and stylish coffee mugs.
#2: Two is Better Than One
Food Network shows us the right way to do it – there are no surprises with this one, either. By doing all the preparing, cooking and serving together rather than alone, you and your date can have lots of fun (hint: lick the uncooked batter without feeling guilty)!
#3: Share a Blanket, a Movie and Homemade Truffles It isn't just high school girls who need a dose of Johnny Depp in his most romantic stride. On this special day, why not cuddle up on the couch with your partner and rent a chick flick while having a sumptuous dinner for two? Delish does a great job compiling the best Valentine's Day movies to rent, along with the food inspired by the films.
#4: Practice Your License to Drink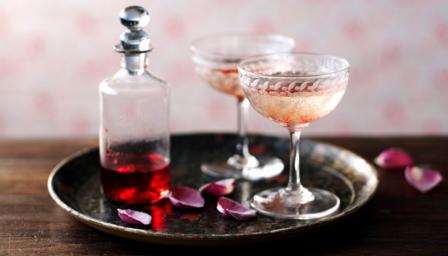 There are hundreds of aphrodisiacs out there, but nothing can seduce a man or a woman better than the most romantic cocktails. From classic dirty martinis to strawberry daiquiris, BBC Food has got us covered with simple recipes that anyone can follow and photos that can be easily duplicated for Valentine's Day fancy.
#5: Tickle Your Sweet Tooth
Finally, the perfect way to wrap up this day of romance and great food is share the most delectable desserts with each other. Spoonful does the job right with their simple slow-cooker fondue recipe for two, which you can duplicate within the comforts of your own home with a fondue and mug set.
#6: Exchange Gifts!
Whether it's planned ("I'll get you a gift and you'll get me a gift") or a total surprise, giving (and, yes, receiving) gifts shouts Celebration! regardless of the occasion. Here are some grand suggestions on what to get him – or her:
For Him:  Basically anything that is in anyway inclined to inflict pain – deliberately or not – screams testosterone, which means he will LOVE it. A great way to go is to give him a really manly lighter or Swiss knife, if he hasn't gotten one already. These are great presents for keeping within a budget, but if you're planning on being more ambitious, why don't you shoot for the stars (quite literally) with the Celestron AstroMaster 114EQ Reflector Telescope, available at the Kitchenware Direct shop?
For Her: They say shopping for women is an easier task – well, we're here to prove this right. As long as you have a clear idea on what your loved one likes, you'll have Valentine's Day nailed in one shot. You can give her a unique fridge carafe, which she can use at home or when traveling. Pick a color that she likes best, and you'll get her attention. For a more obvious, I-support-your-love-for-cooking kind of present, there are tons of cute and stylish aprons which will surely tickle her fancy. For the super organized gal pal, a clutch, purse or organiser will do the trick. These examples will tell her that you're not just paying attention – but that you also care enough to find gifts which are out of the usual chocolates/flowers/jewelry ensemble which has been such a dead end for ages.
We hope these ideas and tips help ignite your Valentine's Day celebration this year. Do you have other great, unique ideas to share? Feel free to let us all know about them by commenting below. Happy Valentine's Day!